Well… the last entry I said that someone had broken into my car. The week following, someone broke into our house. I won't go into detail, I've told the police and my workmates and friends already, but let's just say that I haven't been able to sleep well since. It's not nice to wake up to someone standing over your bed taking your stuff. In fact it's downright terrifying.
Anyway.
Today with Holmes and Mack we got bored – eating pizza on the floor of the living room as you do – and decided to look up silly girly movies to see if we agreed with the lists. It amused me how so many movies we see as iconic girly movies didn't make the cut. In later lists that weren't considered the 'major and important' links on google there were some of the movies we all loved, but not in the most commonly searched.
This got me thinking… if I were to compile a list of girly films, which would I put in there? To be honest, I know that by the time I finish the list I'll find many more films I wish had made the list but by that point it will be around 3am and I will really REALLY need to attempt sleep again. So I guess if we start now… we can only go forward!
No hate, please, I know we all have different tastes, since this is my blog these are my choices. If you want to suggest others, you got for gold y'all! I'd love to see them in the comments!
[more updates about life and stuff at the bottom for those who care]
BANDIT'S TOP THIRTEEN MOVIES OF THE GIRLY VARIETY
In no particular order, just the order I thought them up in
1. Ten Inch Hero


This movie actually made no lists that we looked up, which I find atrocious. Sure, it's not a particularly well-known film or one that hit it big in Hollywood but it's amazing. It's fun, perfectly cheesy, and has a scene in it that made me cry and feel weirdly cathartically happy at the end. Jensen Ackles' presence is surely helpful, of course, but this is really one of my all-time favourite girly flicks. Check it out.
2. 10 Things I Hate About You


This movie does not get the credit it deserves nowadays. I remember not liking it very much the first time I saw it, I can't even remember why, I think I was in a prissy stage where I refused to like stuff because other people liked it. Whatever. This movie… is a movie I quote pretty much on a daily basis. I adore it. The fact that it's a loose adaptation of a Shakespearean play (Taming of the Shrew) just makes it even better. This is one of those movies that if you have guy friends over for your girly night (coz who wouldn't, really) will please them also.
3. She's The Man


Another loose adaptation of Shakespeare (Twelfth Night this time) and a movie that I know a lot of people dislike. I dunno why, but this film makes me so happy and makes me feel so damn good about myself I can't even begin to explain it. Also I grew up with Amanda Bynes (Amanda Show anyone? No? Am I showing my age?) and her everything is to be envied. Basically a brilliant film about girls kicking ass as badass hunky dudes who like to talk about cheese.
4. Bend it Like Beckham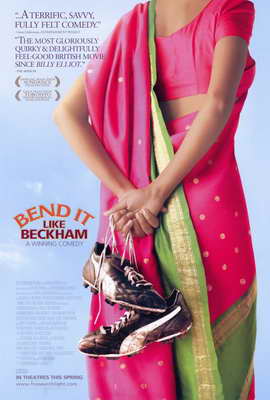 What a way to segue into something huh? Look at me pulling out – potentially wrongfully spelled – words at 2am. This film is a film I quote a little too much. Usually in an Indian accent, which I have gotten very good at recently. Another good film about girls kicking ass and showing their families that they can do what they want if they truly believe in it, as well as being able to make round chipatis. This highly amuses my Indian friends so I'll assume it's not an offensive movie. I can honestly say that it made me want to play soccer… and I don't like sport. Ever.
5. St. Trinian's


I can almost guarantee that people reading this blog have either a) not heard of this film or b) seriously dislike it. Believe me, I know this is a terrible film. I understand it completely, from the stereotypes to the script to the costuming… but I adore it. I adore it beyond words. If there is any film that makes me feel empowered to be a woman, different, quirky and crazy, it's this one. Every time I watch it it makes me want to dance on a table singing into a hairbrush. It's the ultimate girl power movie for me, because – unlike a lot of "girly" films, this one doesn't have the end game of the main girl getting a guy. It has the endgame of the main girl learning to be awesome in her weirdness and standing up to bullies. Also the theme song makes me very, very happy.
6. Bring It On



The fact that this film only made it into ONE list of the ones we trolled through really disappointed me. This, to me, is one of the ultimate girly movies! I swear my generation grew up on this. AWESOME, OH WOW, LIKE TOTALLY FREAK ME OUT I MEAN RIGHT ON! It's fantastic. Makes you both hate cheerleaders and love cheerleading as a sport. Before I discovered St. Trinian's, this was my go-to super powerful girl power movie (mostly thanks to Eliza Dushku and her amazing… everything).
7. Love Actually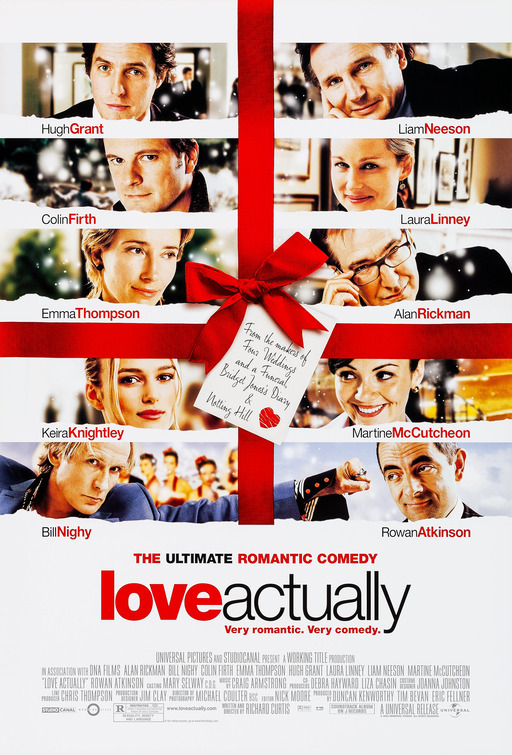 This movie… is the only film I watch as a tradition. Every Christmas since it came out, Q and I will curl up on the couch at home with bad food – preferably chocolate – and watch this. It is poignant, it is funny, it makes us cry and it is PERFECT for Christmas eve. After this came out, tons of others tried to copy the idea, like New Year's Eve, and none have ever lived up. Something about Love Actually is just so special, and so, so British. This movie, also, in my opinion doesn't get the credit it deserves. It gets beaten out by 'newer' versions of the same thing, but to be honest, newer, in this case, does not mean better. Love Actually is unparalleled.
8. Moonstruck


Jewish and Italian families are too similar. Trust me on this. Another film, like 10 Things, that I did not like very much the first time I saw it, but now adore and seek out. I can't even explain to you why. Maybe I grew up enough to understand the humor? Who knows. All I do know now is that this film has to make my list. You can't have a girly night without Moonstruck and Cher's amazing hair and unbelievably perfect family. No, really.
9. Keith


This film isn't easy to describe. The poster makes it look horrific and a lot of people are put off by Jesse McCartney being the main male lead, but believe me when I say this is one of the most powerful and unforgettable films of all time. And hey, at least one weepy movie had to make it to the list right? What's a girly night without clinging to each other and weeping into a bowl of chocolate covered strawberries? Trust me on this. Keith. Watch it. You won't regret it.
10. This Means War


A new movie and a brilliant one. I won't lie, I saw it for Tom Hardy, just like Holmes saw it for Chris Pine, but it is a truly brilliantly funny film. Honest. I loved how immature I felt giggling about Klimt apparently painting with sticks and when he couldn't find any using his… yea. I know, I know, shut up. But it is a brilliant piece of work. A strange film in that I was rooting for a different outcome and yet was very satisfied with how it turned out in the end. More proof that amazing actors like Reese, Tom and Chris can be versatile and do silly lighthearted films like this as well as their usual Oscar-worthy work.
11. Little Miss Sunshine


This was an accidental find, one of those films I saw with a friend 'because it was the only thing on'. I had no idea what it was about, nothing to go on when I went to see it, and I loved it. It still stands as one of the only films to make me cry one minute and laugh out loud the next. It is touching and real and unforgettable. Sadly, this film rarely makes girly sleepover lists, and it really should.
12. Dakota Skye


I still think this is one of the most original films in a long, long time, and a really beautiful love story about trust and respect and fear of the unknown. It also has, without a doubt, one of my FAVOURITE confessions of love in any film ever. I love Pride and Prejudice, I really do, but Jonah's speech to Dakota blows it out of the water for me, I'm sorry. It's just so beautiful, and so truthful. Ah! I love it. Like Ten Inch Hero, this film doesn't get the recognition it deserves because it never 'made it big'. But it really should.
13. 27 Dresses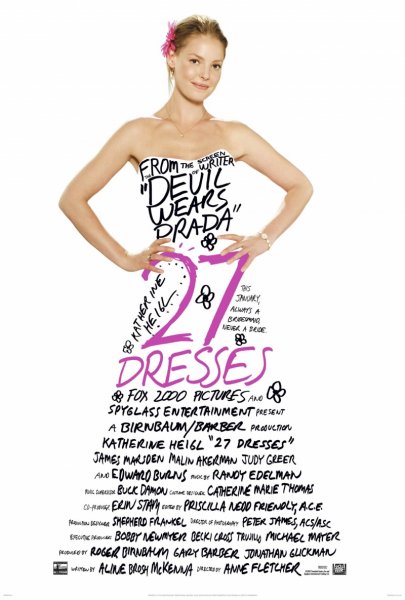 I feel like I just found out my favourite love song was written about a sandwich. The single most amazing quote in film comedy ever. At least I think so, anyway. This is the atypical girly chick flick that, weirdly enough, doesn't annoy the shit out of me. I like the main character, she doesn't get on my nerves for being weak or stupid… because she's not. She's an accomplished woman who has a sheltered life due to being busy with things she loves and… obsessing over someone who doesn't love her back. Been there. We all have. Sadly, not all of our lives end up as good as hers but hey, what's entertainment if not to inject some magic into our lives?
—
In other news… uni is over for another year. I had a bad year, I won't lie. I am not happy with my grades or the time I spent there or even the classes I took. I didn't like it and it's very difficult to even want to enroll into the next year, but hey, what can I do. I changed my degree again, English and English Linguistics now. Useless in the long run but it means that I can go for a masters in creative writing if I want to later.
Been applying for jobs back and forth, not because I want to leave the book store so much as I genuinely need more money to live. I have tons of debt, I have a student loan bigger than waves in South Africa and, quite frankly, I would like to have more than $20 a week on everything. Fingers crossed for one job in particular, will certainly keep you posted on the progress of that one.
Actually, my getting or not getting the aforementioned job will potentially dictate my very near future. Many plans, none finalized. But it's possible I may be leaving Auckland to live in Wellington for a while, transferring my studies to Victoria. Still in the works, but in a rather pointed way, the way a spanner is not. There are many things wrong and perfect about this plan, so until I have more to tell you, I won't mention it again.
I finished NaNo this year, woohoo!~ Just need to start retouching it from the beginning and seeing how people react to it when I give them random chapters to read. Fingers crossed, though, this is the one I want to make it big. And hey, you never know, if shit like 50 Shades of Gray can get published, my work certainly can (speaking of which, I read a wonderful essay on how 50 Shades doesn't show the BDSM lifestyle but a lifestyle of abuse and what the difference is; made my sex history brain tingle with happy. It's possible I may have a blog entry about it later)
Other than that… it's 2:30am and the cats are making noise in the laundry and I am terrified to sleep. Good thing I made a list of movies to watch huh…
Speaking of… should I make more of these? I can make em genred or general… I can talk about movies all day, but will anyone care to listen?
Bandit, OUT!
---
---
---
---
---
---
---
---
---